Victoria and
David Beckham
's personal tattoo artist, Louis Molloy, has helped to create the UK's first skincare range designed specifically for tattooed skin.
Forever Ink launches with two new products – Forever Ink Balm, £6.99, for new tattoos and Forever Ink Shield, £12.99, for existing ink – and is available online at Boots.com and selected tattoo studios.
We caught up with Louis to talk more about the collection, and, well, we couldn't resist asking some cheeky Beckham-related questions while we had his attention. Naturally.
Check out our exclusive chat below…
Louis, why do we need specific skincare for tattoos?
"A tattoo that has just been done is by all intents and purposes a wound and should be treated as such. There is a LOT of conflicting information on the web about how to look after a tattoo. A lot of research has been put into the creation of the Forever Ink range, and seeing as it is the UK's only skincare range specifically designed for tattooed skin we feel it is truly the best option. The Tattoo guardian website (www.tattooguardian.com) and Forever Ink app are two essential tools to help guide people through the process of the aftercare of a new tattoo and also gives advice on the long term care as well."
What's the most damaging thing for tattoos?
"Exposure to UV light can very quickly damage a tattoo and make it fade very quickly. Forever Ink Shield helps prevent this using both a 45 factor sunscreen and also a moisturiser which will keep a tattoo looking its best."
Which celebrity would you love to tattoo?
"Prince Harry"
And your least favourite celebrity tattoos?
"Cheryl Cole"
How is David Beckham when it comes to taking care of his ink?
"David was really good as a client but what else would you expect!"
Which of David Beckham's tattoo was your favourite to do?
"My favourite tattoo that I did on David was the Guardian Angel that I did on his back as it has become one of the most copied tattoo designs of all times and is very iconic."
Tattoos are more mainstream than ever before, but what are the common mistakes people make when getting inked?
"People often get tattooed on impulse and get designs done without considering the long term consequences of them. Design and placement are crucial as is the choice of artist to do the work. The message here is DO YOUR HOMEWORK before getting a tattoo."
So, do you regret any of your tattoos?
"A few years ago I had both of my arms and chest work all lasered off - it was the most painful thing I have ever experienced. I had it done because I was not happy with the work I had on as finance was always an issue when I was younger and my choices then are not what I would get done today. I have had all the areas of my arms and chest reworked now and am really happy with the results, however the whole process from start to finish took four years. Anyone thinking that a tattoo they don't like can simply be removed by laser should think again as this is not always the case."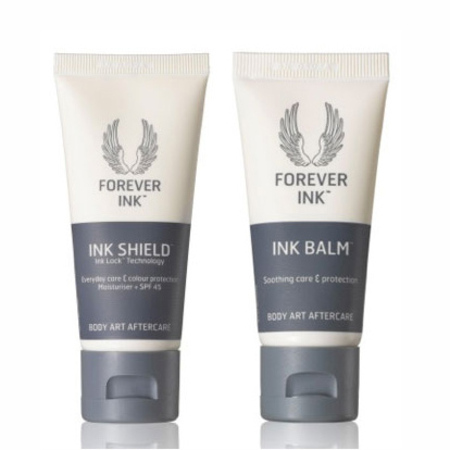 So, is Forever Ink something you'll be trying? Considering your first tattoo? Regret your ink? Tell us below!
BRITNEY SPEARS DEBUTS NEW FULL FRINGE
MILLIE MACKINTOSH GETS CIATÉ VELVET MANICURE
NAIL HOW-TO: Glitter tips with Frontcover