Ever wondered what it's like to be a TONI&GUY stylist at
London Fashion Week
? Well, wonder no more.
TONI&GUY's International Artistic Director Indira Schauwecker takes us behind-the-scenes from morning till night on day one of LFW...
"
8am:
WAKE UP. 8am is a fashion week lay in for most and I'm grateful for the extra few hours sleep. I get ready as quick as I can - I have to wear heels this morning as some of the models will be wearing hats and I need to be tall enough to fasten them!
11am:
CALL TIME. My team and I make our way to Somerset House, this is our first season working with Corrie Nielsen so I'm incredibly excited and a little nervous.
11.20am:
Our first model arrives so I start the demonstration to brief the team on the hair looks we are creating today. We've got two looks to create, as six of the girls will be wearing fascinators. Everyone gets crimping!
1pm:
RUN THROUGH. After the run through, the team and I start working with Emma, the Milliner, fastening the hats to finish the look – we finish just in time for the show to begin.
2pm:
SHOW TIME. I stay backstage and say a huge thank you to the team for their hard work and head straight to our next show - Jean-Pierre Braganza as it's call time already!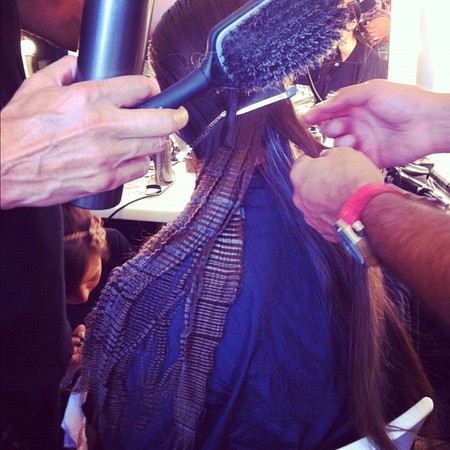 2.03pm:
CALL TIME. Thankfully the backstage area for Jean-Pierre is next door. I've worked with him for a few seasons now so I track him down for a quick cuddle and a catch up. He called me the night before as the look we came up with is very elaborate - the 2-hour call time we have to work with is looking incredibly challenging.
So with a quick shoe change back into my flats I'm ready to brief the team. Before the models arrive I divide everyone into threes, as we'll need SIX hands to create each braid.
2.50pm:
We have some models turn up that arrive straight from another show with their hair in big bouffant styles so we all take our label.m Grooming Brushes to smooth the hair as quick as possible.
4.00pm:
RUN THROUGH. We still have nine models to go so the team and I are feeling the pressure. I track down Jean Pierre and he is so clam it reassures me. As soon as the models came back from the run through the team pulled together for the remaining half an hour.
5.00pm:
SHOW TIME. As the models stand in the line up, we perfect the look just before they set foot on the runway. It's such an emotional rollercoaster with two on-schedule shows back to back. I haven't had time to eat, drink or think since 8am so the adrenalin really hits me at the end."