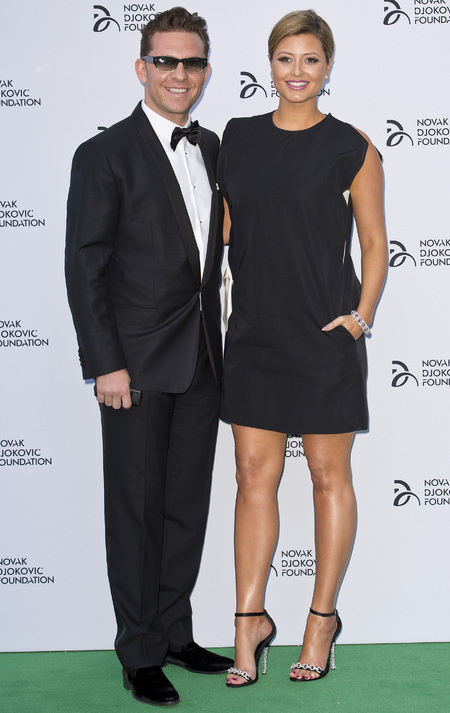 Holly Valance
has been outed as being five months pregnant after the former soap star failed to stop an Australian magazine publishing pictures of her growing baby bump as she holidayed in Italy.
Holly, who is married to millionaire property developer Nick Candy, tried to win an injunction to prevent snaps of her relaxing on a yacht in Italy from being published.
It is thought the photos show her baby bump, reveals
The Mirror
, which Holly has been keeping under wraps as recently as two weeks ago at a charity gala (pictured above).
Holly was trying to prevent Australia's biggest weekly magazine,
Woman's Day
, from releasing the pictures – however a judge denied her injunction as 27,870 advance copies had already been sent out to subscribers, and a further 70,000 had gone to press.
In the ruling, Justice Michael Pembroke said trying to recall the magazines was 'futile', but that the behaviour of the magazine was 'disdainful.'
'She [Holly] has made an application today, Saturday afternoon, for an injunction to restrain the defendant from publishing, communicating or referring to certain photographs that were taken of her on a yacht off the Italian coast showing her in an advanced state of pregnancy,' explains the ruling.
It continues, 'If the objective of the plaintiff is to protect her own opportunity to reveal the fact of her pregnancy at a time of her choosing, then that opportunity has been lost by the events which have occurred.'
It is thought the magazine, who also published photos of Kate Middleton pregnant in a bikini, decided to print the images despite Holly managing to get them recalled in London.
CARA DELEVINGNE REVEALS HER BABY PHOTOS
FRANKIE SANDFORD'S SAILOR THEMED BABY SHOWER
THE ULTIMATE GUIDE TO STAYING FIT DURING PREGNANCY
2013'S PREGNANT CELEBS...