And so it begins. The royal baby has caused a shopping storm as new mums rushed to buy the Aden and Anais bird print muslin swaddling cloth he was pictured leaving the hospital in yesterday.
The 100% cotton muslin swaddling wraps are a favourite among celebs like Jennifer Garner, Kourtney Kardashian, Uma Thurman and Sandra Bullock all choosing the cloths for their children.
Soft and versatile, the traditional swaddling cloths 'allows a baby's body temperature to regulate itself naturally helping to reduce the risk of overheating,' reports the shop's website.
As predicted, getting the royal seal of approval is going to be good for sales, as the 'jungle jam' pack of four swaddle wraps this bird print one comes from (priced at £44.95) are sold out and on back order.
Financial experts believe the royal baby is going to have as much impact on consumer spending habits as his mother,
Kate Middleton
, as parents-to-be rush to buy the same clothes and accessorises.
Kate's polka dot
Jenny Packham dress
worn at the hospital yesterday reportedly caused the designer's website to crash as women desperately tried in vein to purchase the bespoke design.
It is estimated the
economy will get a £247 million boost
as a result of baby mania - with people throwing parties, buying commemorative wares and increased tourism.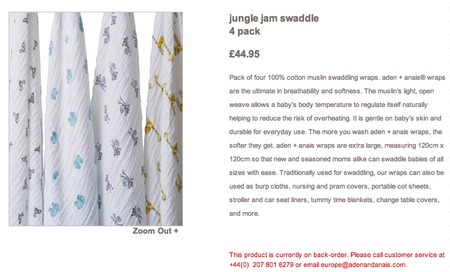 KATE MIDDLETON GLOWS IN BABY BLUE JENNY PACKHAM POLKA DOTS
KATE RECOVERS FROM ROYAL BIRTH WITH A PIZZA
BRITONS WILL SPEND £60M ON ROYAL BABY BOOZING