Kim Kardashian
, 32, was snapped in a low-cut maxi dress the same one her sister Kourtney, 33, wore while pregnant with her second child Penelope back in 2012.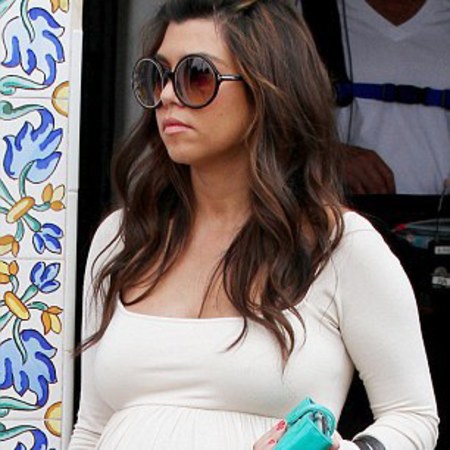 Kourtney first wore the cream Grecian-style dress in June while filming scenes for the family's reality show Keeping Up With The Kardashians in San Diego.
The reality star, who was eight months' pregnant at the time, looked slender and sophisticated in the frock, with her bump under wraps.
Fast forward nine months, and her sister Kim stepped out wearing the same dress whilst making a stop for frozen yoghurt in Los Angeles.
The reality star, reworked the maternity dress, pulling the sleeves into an off the shoulder style. She teamed the frock with sandals and had her hair in loose curls.
Kim has received criticism over her 'sexy' maternity style, so perhaps big sister Kourtney has been trying to offer some help in the form of some slightly toned down ensembles.
Kim took to her blog to respond to comments regarding her pregnancy style.
'I saw some comments that were so critical!' she wrote. 'It's funny because Kourtney warned me that when I get pregnant people's opinions will be on an all time high and everyone will chime in. So I now see what she means.'
She added: 'I saw some comments that the skirt is too tight for the pregnancy and that's ridiculous! I bought this skirt a few sizes bigger and there is plenty of room' she said.
For more information on pregnancy health and advice go to
www.nhs.uk/Start4Life