I've been working on maternal health programmes for 7 years now, especially promoting nutrition, exercise and healthy pregnancy practices.
Since my last post I've been to Geneva, Switzerland to visit the WHO (see pic above). It was freezing cold but a great experience despite a very disrupted journey home.
Before I got pregnant I imagined that when my time came, I would find it easy to have an exemplary pregnancy. I saw myself doing yoga, swimming, walking and dining on cherry tomatoes and cottage cheese. Now I finally realise how hard it is to take care of yourself properly. When there's so much going on, putting yourself first, taking time to relax and keep fit, and cook decent meals instead of just buying the usual ready made wraps and snacks is actually really challenging.
Having this first hand knowledge helps a lot, as I'm better able to understand the reality for working women. As much as I would love to do yoga and swimming every night the fact is, when you are 26 weeks pregnant, full time job, plus a gruelling travel schedule, you come home and literally want to crawl into bed and sleep. The cold weather doesn't make it any easier to get out and be active either.
As for diet, it's not hard to see where all good intentions go amiss. You know how they say 'never go shopping on an empty stomach' because you tend to go for the high fat high carb foods? Well, being pregnant you pretty much feel that way all the time: it's a chasm of hunger that is crying out for butter, sugar and pizza constantly. I thought that cravings were like momentary lapses of reason that you can overcome with apple eating. But no! I literally think about red velvet cupcakes during every waking moment of the day, and sometimes dream about them at night.
So, what am I actually doing to help the situation? Clearly not enough as I have put on about 10kg since becoming pregnant, more than necessary. I try to get out in the morning and walk a couple of blocks at least before breathlessness gets the better of me. Yoga is relentlessly recommended in pregnancy but signing on to a regular class just won't fit with my schedule, so I have some DVDs at home which I try and follow. I don't know about you, but the earnest serenity of yoga bunnies just gets my goat sometimes! My favourite is when no one is home, and I put on some raucous 80s pop and do lip-sync karaoke in my over-sized pjs. After all, who cares? As long as you're getting some activity in every day, enough to get the blood pumping, then it doesn't matter how you do it.
I've even been out dancing with my friends a few times – which is hilarious as when the music is loud the baby dances more than I do! She's super active now – and certainly gets a work out in every day without fail. Whenever she hears music or singing she starts stomping around on my insides so I can actually see my belly moving up and down. I can't wait to meet this little firecracker! Have any of you tried putting headphones on your belly yet? Try it today!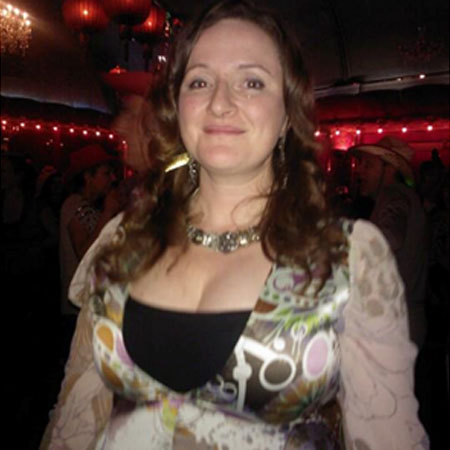 Off to Uganda for work again for the next two weeks, staying in lovely conference centre with a swimming pool and gym. Last travel of my pregnancy, I'm looking forward to the warm weather, but counting the days until maternity leave now!
Polly is 34 years old and is pregnant for the first time.
Follow Polly's progress on
The Pregnancy Diaries
.
For more information on pregnancy health and advice go to
www.nhs.uk/Start4Life
We're expecting too! Check out
handbag.com/babybag